Welcome to Bear Lake Landscape, Inc
Transforming Outdoor Spaces Since 1970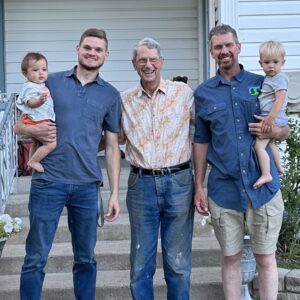 At Bear Lake Landscape, we are more than just a landscaping company; we are stewards of Bear Lake's natural beauty, dedicated to bringing its essence to your outdoor space. Our journey began in 1970 as Bear Lake Security, evolving into Bear Lake Maintenance in 1983. As our passion for landscaping blossomed, so did our commitment to excellence, leading us to rebrand in 2001 as Bear Lake Landscape, Inc.
Our Motto: Design, Build, Maintain.
Design: Our skilled team of landscape designers breathes life into your vision, creating outdoor spaces that seamlessly blend aesthetics with functionality. We understand the unique beauty of Bear Lake, and our designs reflect a harmonious integration with the natural surroundings.
Build: Crafting enduring landscapes requires expertise, and we take pride in our meticulous installation process. Whether it's a custom flower bed design, lawn mowing, or the installation of a sprinkler system, we bring precision and care to every project.
Maintain: Our commitment doesn't end with installation. We believe in nurturing what we create. From routine lawn maintenance to seasonal services like fall leaf pickup and snow removal, we ensure your outdoor space thrives year-round.
Serving Bear Lake Valley with Pride
[Bear Lake Landscape, Inc.] has been the trusted name for high-quality, full-service landscaping in the Bear Lake Valley for over five decades. We don't just work here; we live here. Our connection to the community runs deep, and we are committed to enhancing the beauty of Bear Lake one landscape at a time.
Cold-Hardy Expertise
Specializing in cold-hardy plant material and cold-climate landscaping, we understand the unique challenges and opportunities presented by Bear Lake's climate. Our solutions are not just beautiful; they are tailored to thrive in our local environment.
Signature Service, Personal Touch
Our signature, high-quality service is a reflection of the people in our company. From our dedicated managers to our skilled laborers, we are united by a shared commitment to making quality happen. Meet the faces behind Bear Lake Landscape:
Bryce and Jennifer Huefner, Owners: As the proud owners of Bear Lake Landscape, Bryce and Jennifer bring a passion for landscaping and a deep love for the Bear Lake community. Their hands-on approach ensures that every project receives the attention to detail it deserves."
Fall is the best Bear Lake season of the year! Don't question this assertion, because last year we did a survey and you overwhelmingly voted FALL!! The lake is placid and the valley is quiet. There some things that need to be done though….. Everyone knows about football and foliage, but there's a lot to…
Read More